Family: Schizaeaceae Kaulf.
Distribution: Madagascar and Seychelles, where is known only from the highest granitic islands (Mahé and Silhouette), uncertain information is from Praslin Is.
Ecology: Sunny or half-shaded places in open woodlands or in shrubby vegetation and margins of glacis in middle altitudes, mostly in shallow stony soils. Localities are usually under influence of cloud condensation.
Description: Peculiar small fern. Rhizome is shortly creeping, erect, fronds are densely tufted. Stalk is thin, 10–25 cm long, with 8–15 linear, 1–2 cm long lobes on the top. Lobes are parallel, with sessile green sporangia beneath turning brown during ripening; indusia absent.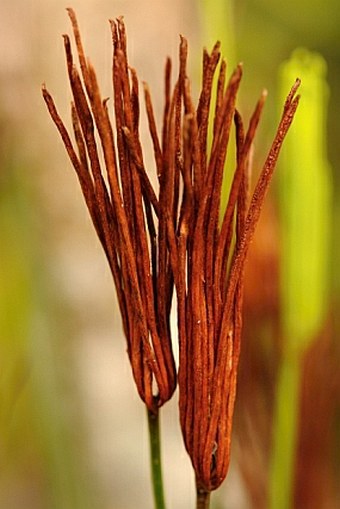 These images were taken in Seychelles, Mahé Is.: NP Morne Seychellois, glacis Copolia and Mare aux Cochons (by Vít Grulich and Alena Vydrová, February 4 and 6, 2011).