Syn.: Aster bonplandii Kuntze, Aster confertiflorus (DC.) Kuntze, Solidago aureola Greene, Solidago multiradiata var. neomexicana A. Gray, Solidago vespertina Piper, Solidago virgaurea var. confertiflora (DC.) Kurtz
Family: Asteraceae Bercht. et J. Presl
Distribution: North American species distributed from Alaska across Canada to New Mexico and Virginia. Several subspecies and varieties are recognized and they are found regionally according to different habitats, for example Solidago simplex var. chlorolepis grows in alpine serpentine barrens, crevices and ravines in Quebec, S. s. var. nana in alpine meadows, gravel slopes in British Columbia, Oregon and Washington, S. s. var. ontarioensis in basaltic rocks and calcareous shorelines in Ontario and Michigan, etc.
Ecology: Grasslands, dry prairies, mountain slopes, forest meadows, 0–3000 m of elevation. Blooms from July to August, starting when Solidago missouriensis is finishing its flowering period.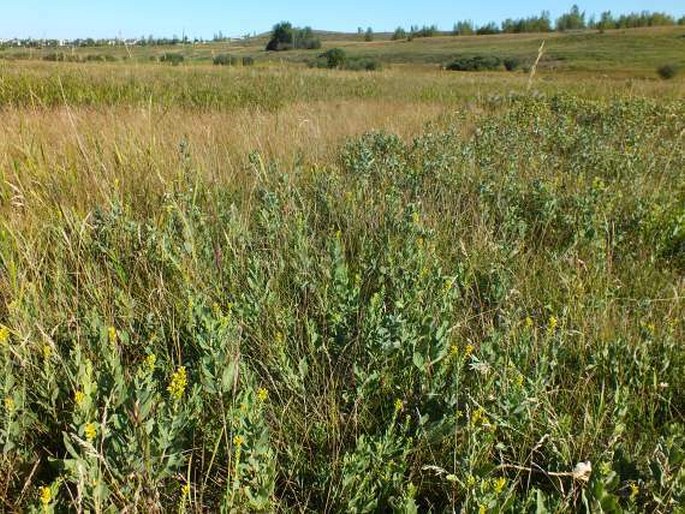 Description: Perennial herb, 5–80 cm tall. Stems 1–10, ascending to erect, glabrous, strigose in arrays. Basal and lower stem leaves petiolate, blades narrowly oblanceolate, spatulate, or broadly elliptic, (20–)50–100(–160) × (2–)5–16(–56) mm, margins serrate to crenate, apices acute to obtuse, glabrous; mid and distal stem leaves alternate, sessile, lanceolate to linear, smaller, 12–45 × 2–19 mm, reduced distally, margins entire to sparsely serrate. Heads 3–150, in paniculiform arrays; peduncles 3–10 mm long, glabrate to sparsely strigillose; bracteoles few, linear. Involucres campanulate, 3–7 mm; phyllaries in 3–4 series, outer ovate, acute, inner linear-oblong, obtuse; ray florets 7–16, laminae 2–5 mm long; disc florets 6–31, corollas 4–5 mm long. Fruit is an achene, pappus of white capillary bristles.
These images were taken in Canada, Alberta, Calgary, Confluence Park (August 22 and 23, 2015).