Syn.: Aster altissimus Moench, Aster concinnus Colla, Aster novae-angliae L., Aster spurius Willd., Lasallea novae-angliae (L.) Semple et Brouillet, Virgulus novae-angliae (L.) Reveal et Keener
Family: Asteraceae Bercht. et J. Presl
Distribution: North American species found in the most of the continent with the exception of the Arctic, Alberta, Saskatchewan, Idaho, Nevada, Arizona, Texas, Louisiana and Florida. British Columbia, Montana, Oregon, Utah and Washington occurrence is either from introduction or escape from cultivation. Introduced in Europe. Due to its striking colour it is widely available in horticulture and a number of colour forms are known.
Ecology: Open areas, fields, prairies, meadows, wet areas, roadsides and any disturbed locality, becoming weedy. Elevations from 0–1600 m. Blooms in late summer, sometimes until November.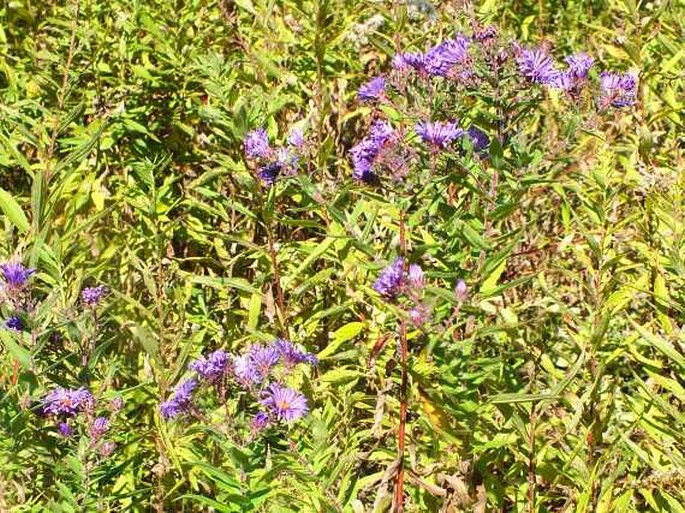 Description: Perennial herb, 30–120 cm tall, tufted, from woody, branched caudices or fleshy rhizomes. Stems erect, light to dark brown, sometimes purplish, hirsute or pilose, distally stipitate-glandular. Basal leaves light to dark green, thin, sessile, usually spatulate or oblanceolate, 20–60 × 5–15 mm, 3-nerved, margins smooth or with shallow teeth, withering before flowering. Lower stem leaves longer than upper stem leaves, 50–100 mm versus 30–80 mm, smooth margins, lanceolate to oblanceolate, both clasping stems. Flower heads in leafy, often crowded, paniculo-corymbiform arrays. Peduncles slightly swollen under the heads, with short glandular hairs, 1–4 bracts, hairy, linear to lanceolate. Involucres campanulate to hemispheric; phyllaries in 3–5 rows, dark green to purplish; ray florets 50–75, dark rose to deep purple, rarely pink to white, 9–13 mm long; disc florets 50–110, corollas light yellow aging purple, 4–6 mm long, lobes triangular. Fruit is an achene, purple or brown, oblong, about 2.5 mm, with tawny pappus.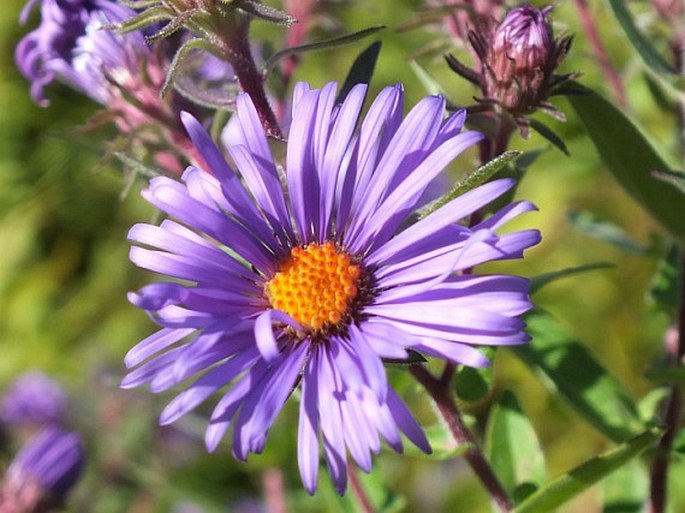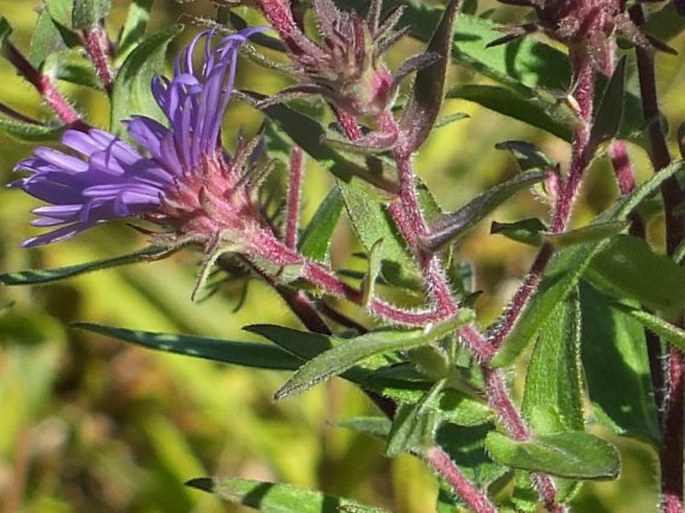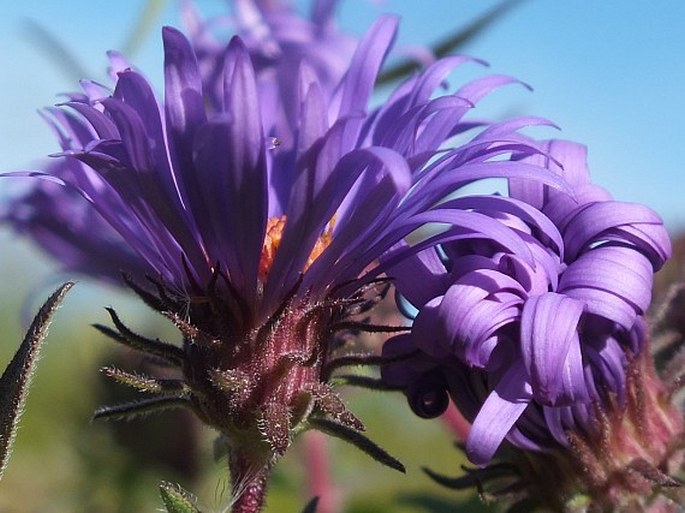 These images were taken in USA, Massachusetts, Worcester (October 4, 2015).