Syn.: Trillium rhomboideum var. grandiflorum Michx.
Family: Melanthiaceae Batsch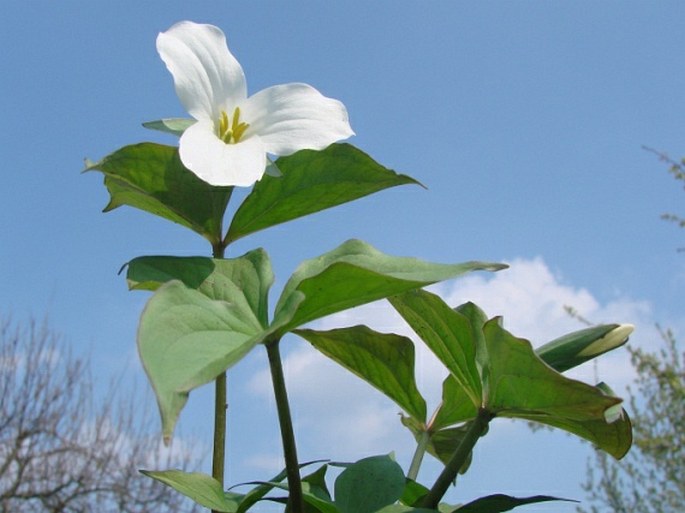 Distribution: Southeastern Canada and northeastern USA – from southern Quebec to northern Georgia, westward to Illinois and Minnesota.
Ecology: It grows in deciduous or mixed woods, in floodplains, along roadsides, at an elevation from 20 to 700 m. It blooms from April to June.
Description: Perennial herb with a short rhizome. Scapes (1–)2–3(–many), round in cross section, 15–30 cm, glabrous. Bracts in whorl of 3, sessile or subsessile, dark green with maroon overtones, ovate-rhombic, 12–20 × 8–15 cm, apex acuminate. Flower pedicellate, odorless, sepals spreading, flat, green, streaked with maroon-purple, lanceolate, 20–55 × 12–23 mm, margins entire, apex acuminate or acute, petals erect basally, recurving somewhat above middle, obscuring ovary and base of style, white or rarely pink, stamens straight or barely recurved, 9–27 mm, filaments white, much shorter than anthers, relatively thin; anthers recurving slightly, pale yellow, strongly yellow when pollen exposed, 5–16 mm, slender, dehiscence introrse, ovary inconspicuous, pale green or white, ovoid, 6-angled, 8–18 mm. The fruit is a pale green, globose, obscurely 6-angled berry, 12–16 mm long.
Many specimens of Trillium grandiflorum have green stripes or markings on the petals, many with numerous (4–30+) extra petals or bracts. Forma roseum with salmon-pink petals occurs very rarely throughout the range.
Threat and protection: It is endangered in states of Maine and New York.
Note: Trillium is a complicated genus to identify individual species. Present key to the species of genus Trillium is unfortunately with problems and morphological differences between species are not obvious, therefore, quite doubtful.
The White Trillium is the provincial flower of Ontario.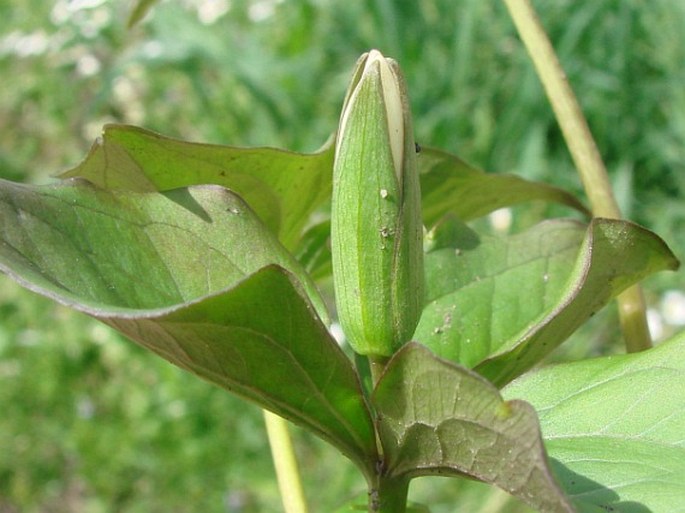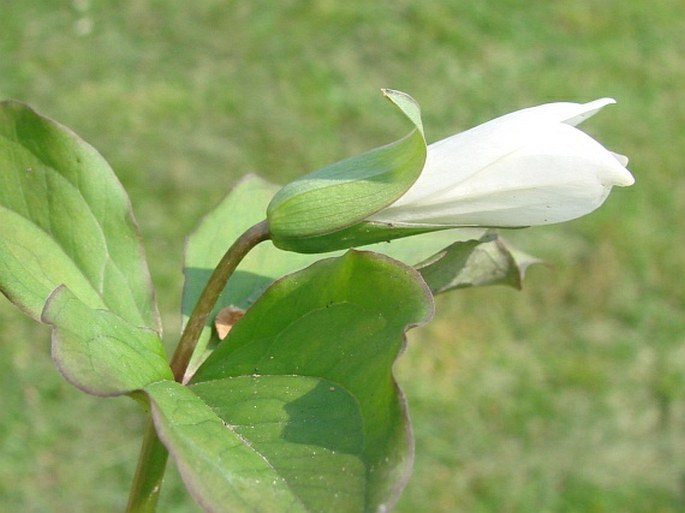 These images were taken in culture – Czechia, Garden of the Natural Science Society (April 13, 2014).