Syn.: Esdra sessilis (L.) Salisb., nom. inval., Phyllantherum sessile (L.) Nieuwl.
Family: Melanthiaceae Batsch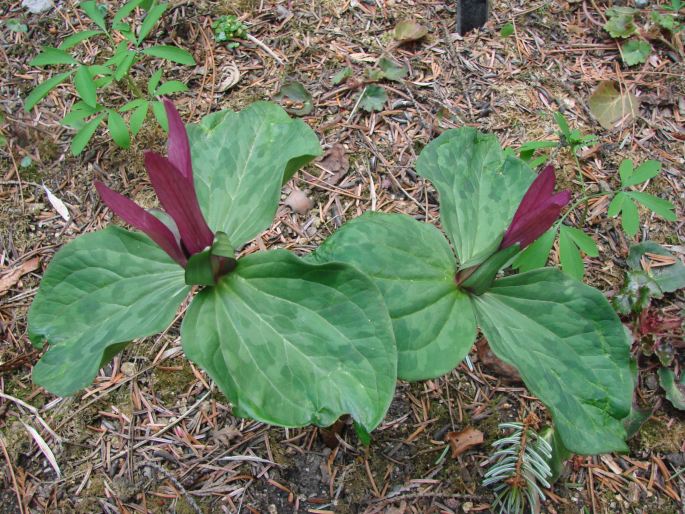 Distribution: Northeastern part of USA, from New York to northern Alabama, from Virginia to eastern Kansas.
Ecology: Grows in woodlands, floodplains and on riverbanks, on calcareous and less fertile soils, in elevations from 100 to 300 m. Blooms from March to May.
Description: Perennial herb with a horizontal rhizome. Scapes 1–3, round in cross section, 8–25 cm, slender to stout, glabrous. Bracts held well above ground, in whorl of 3, sessile, oval to suborbicular, 4–10 × 2–8 cm, green to bluish green, strongly to sparsely mottled. Flower sessile, erect, odor pungent, spicy; sepals 3, persistent, lanceolate-oblanceolate, 9–35 × 4–8 mm, margins entire, apex rounded-acuminate, green, variously streaked with maroon, petals 3, long-lasting, erect, oblanceolate to elliptic, occasionally almost orbicular, 1.7–3.5 × 0.7–2 cm, maroon, brownish maroon, green, or yellowish green, not spirally twisted, margins entire, apex gradually rounded-tapered to acute. Stamens straight, 10–23 mm, filaments red-purple, 2–5 mm, anthers erect, gray-purple, 9–16 mm, connectives purplish brown, straight, projecting 2–5+ mm beyond anther sacs. The fruit is a dark greenish-purple, six-sided berry.
Threat and protection: It is a threatened species in Michigan, endangered in New York.
Use: Trillium sessile is a popular garden plant in the temperate zones of the world.
Note: This genus contains about 43 species from North America and Asia.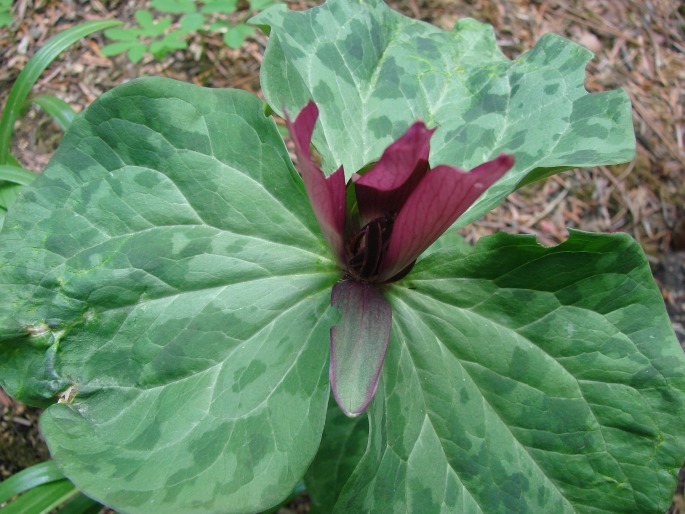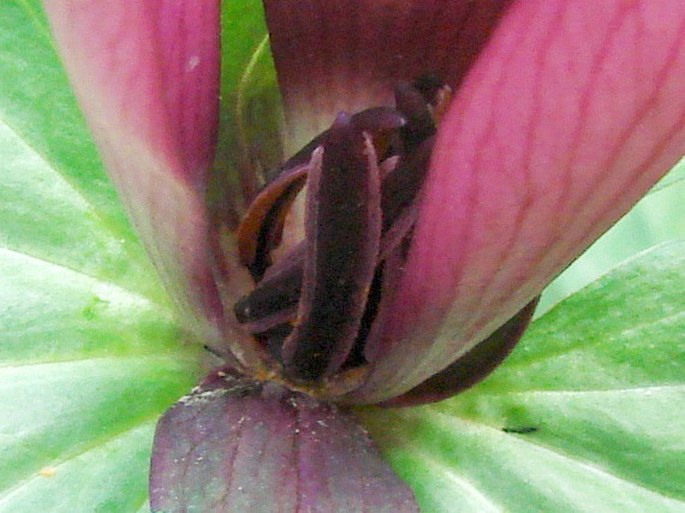 These images were taken in culture – Czechia, Brno, Botanical Garden and Arboretum of Mendel University (16. 4. 2011).