Syn.: Helonias nigra (L.) Ker Gawl., Melanthium nigrum (L.) Thunb., Veratrum bracteatum Batalin, Veratrum purpureum Salisb., Veratrum ussuriense (O. Loes.) Nakai
Family: Melanthiaceae Batsch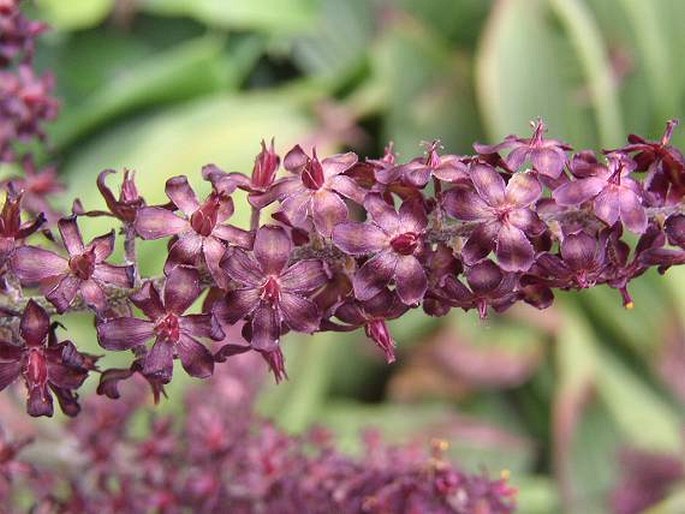 Distribution: From France through central and eastern Europe, Siberia and northern China to Primorye in the Russian Far East. The northern boundary of the European area of distribution runs through the Czech Republic and Poland.
Ecology: It grows in open woods and on dry meadows, in China rises to altitudes of about 3300 m. It blooms from July to August.
Description: Perennial herb with a stout rhizome. The stem is simple, erect, 70–100(–150) cm tall, leaves alternate, broadly elliptic to broadly ovate-lanceolate, entire, many-veined, glabrous. Inflorescence a panicle, branched below, or a simple raceme, flowers 9–15 mm in diameter, tepals black-purple. Fruit is a capsule.
Threat and protection: Black Veratrum is endangered and protected species in some European countries (e.g. France, Czechia, Poland).
Note: The genus Veratrum contains about 40 species, most of which occur in temperate zones of the Northern Hemisphere.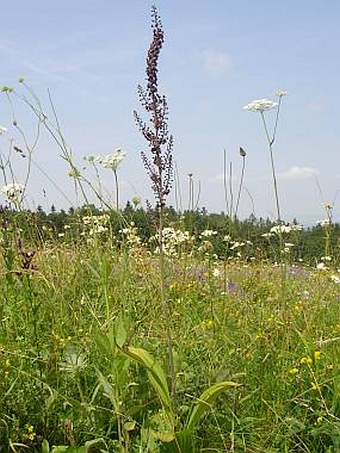 These images were taken in Czechia, Moravia, Bílé Karpaty (August 3, 2003; May 1 and July 25 2004).