Syn.: Waltheria africana K. Schum., Waltheria americana L., Waltheria angustifolia L., Waltheria arborescens Cav., Waltheria corchorifolia Pers., Waltheria detonsa A. Gray, Waltheria elliptica Cav., Waltheria erioclada DC., Waltheria guineensis K. Schum., Waltheria indica var. americana (L.) R. Br. ex Hosaka, Waltheria laevis Schrank, Waltheria makinoi Hayata, Waltheria wildii Suess.
Family: Malvaceae Juss.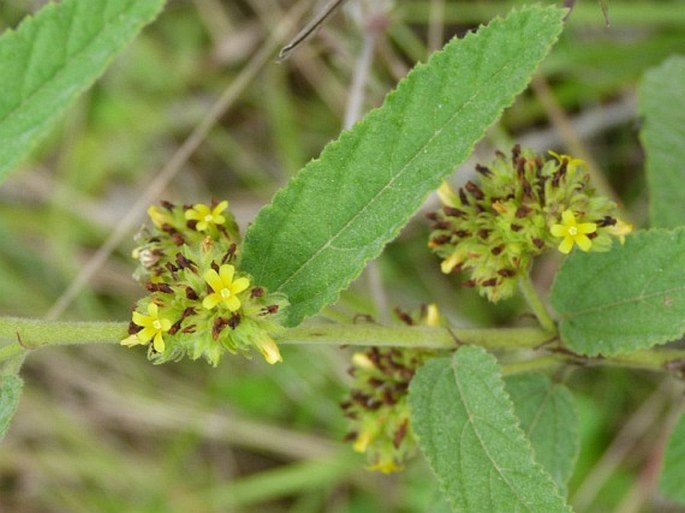 Distribution: Pantropical species, probable Neotropical origin – from the southernmost part of USA through Central America to Brazil and northern Argentina; widely naturalized in subtropical and tropical regions around the world.
Ecology: It grows in dry thickets and open forests, along roads and in fallow fields, at elevations from sea level to about 2000 m asl. Blooms throughout the year.
Description: Perennial herb or small shrub, 60–200 cm tall, densely stellate-tomentose all over. Stems erect or decumbent, branched. Leaves alternate, petiolate, narrowly ovate to ovate, 3.5–12 cm long and 1.5–7 cm wide, rounded, truncate or subcordate at the base, serrate-crenate, obtuse or subacute at the apex, stellate-tomentose on both sides. Inflorescences axillary or terminal, cymose; flowers small, pentamerous, sessile, the bracts linear-lanceolate, about as long as the flowers, sericeous; calyx campanulate, 4–4.5 mm long, lobes 2–2.5 mm long; petals obovate-oblong, 4–4.5 mm long and 1–1.5 mm wide, yellow. The fruit is a capsule, 2.5–3 mm long.
Note: The plant is used medicinally.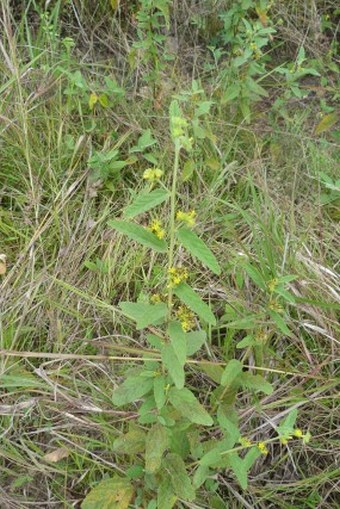 These images were taken in Belize, Mountain Pine Ridge Forest Reserve (by Jindřiška Vančurová, February 19, 2015).