Zion National Park is located in southern Utah near Springdale. It is very close to Bryce Canyon NP and Cedar Breaks National Monument and you might as well visit all three parks one after another. The park was established in 1919 and it makes it the oldest national park in Utah. It was named for the prevalent religious bias of the time.


The canyon by itself has been created by erosion by Virgin River (named after a participant of the first party exploring this area, Thomas Virgin) and it is at places 800 m deep. The rocks are mostly reddish coloured Navajo sandstone and elevation of the park is between 1100 and 2660 m above sea level. The formations to be seen are besides mountains and canyons, various mesas (Checkerboard Mesa), buttes, monoliths, slot canyons and natural bridges. Access from the north will take you through one way tunnel through the solid rock of the rock wall and then through the switchbacks of the highway to the bottom of the Kolob canyon.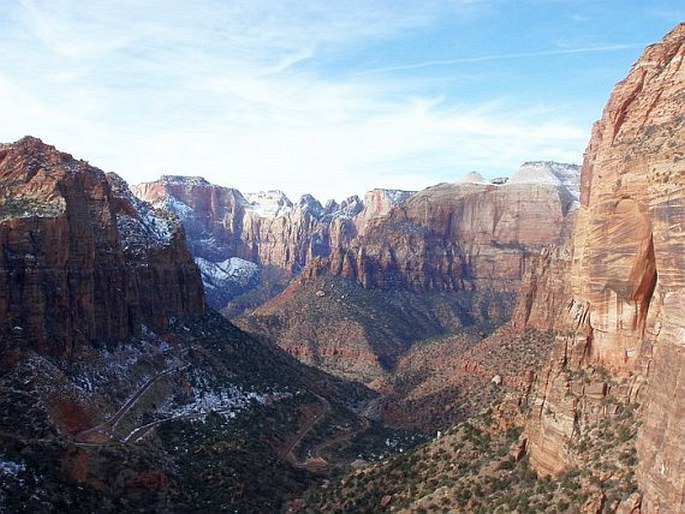 The varied flora is typical for The Great Basin Desert. The park itself lies at the junction of of Colorado Plateau, Great Basin Desert and Mojave Desert. Besides the desert with xerophilous plants like cacti and yuccas (i.e. Echinocereus engelmannii, Yucca angustissima) and semidesert zone with characterisctic sages (Artemisia tridentata), you find scattered shrubs, especially junipers and pinyons (Juniperus osteosperma, Pinus monophylla). At the higher elevations there are suitable conditions for Ponderosa Pine (Pinus ponderosa) in a mix with Douglas Fir (Pseudotsuga menziesii) and White Fir (Abies concolor).


Along the streams grows riparian vegetation with poplars and birches (Populus fremontii, Betula occidentalis) and other wetland plants.
It is estimated there are over 900 different species of plants, more than 250 species of birds, 75 species of mammals and more than 30 species of reptiles.


List of native plants of Zion NP as follows:
Abies concolor
Abronia fragrans
Acer grandidentatum
Acer negundo
Amelanchier alnifolia
Amelanchier utahensis
Aquilegia chrysantha
Argemone munita
Aristida purpurea
Artemisia filifolia
Artemisia tridentata
Asclepias asperula
Asclepias tuberosa
Astragalus praelongus
Astragalus zionis
Atriplex canescens
Atriplex confertifolia
Baccharis emoryi
Baileya multiradiata
Balsamorhiza sagittata
Betula occidentalis
Bothriochloa barbinodis
Bouteloua gracilis
Calochortus nuttallii
Camissonia multijuga
Carex festivella
Castilleja chromosa
Castilleja scabrida
Celtis reticulata
Chaenactis douglasii
Chamaesyce albomarginata
Cirsium arizonicum
Claytonia lanceolata
Cleome lutea
Coleogyne ramosissimum
Cornus stolonifera
Cryptantha confertiflora
Cucurbita foetidissima
Dalea fremontii
Dalea searlsiae
Datura wrightii
Dichelostemma pulchellum
Dodecatheon pulchellum
Echinocereus engelmannii
Echinocereus triglochidiatus
Elymus elymoides
Ephedra viridis
Epipactis gigantea
Equisetum arvense
Erigeron divergens
Erigeron sionis
Eriogonum inflatum
Erysimum asperum
Frasera speciosa
Fraxinus anomala
Fraxinus velutina
Gaillardia pinnatifida
Garrya flavescens
Gutierrezia sarothrae
Helianthus annuus
Heterotheca villosa
Heuchera rubescens
Ipomopsis aggregata
Juncus xiphioides
Juniperus osteosperma
Juniperus scopulorum
Lathyrus zionis
Lewisia brachycalyx
Linanthastrum nuttallii
Lithophragma tenella
Lobelia cardinalis
Lotus utahensis
Lupinus concinnus
Lycium pallidum
Mahonia repens
Mimulus cardinalis
Mirabilis multiflora
Montia perfoliata
Oenothera caespitosa
Oenothera pallida
Opuntia chlorotica
Opuntia erinacea
Opuntia macrorhiza
Opuntia phaeacantha
Penstemon eatonii
Penstemon humilis
Penstemon laevis
Penstemon palmeri
Penstemon utahensis
Peteria thompsonae
Petrophytum caespitosum
Phacelia heterophylla
Phlox austromontana
Phlox longifolia
Pinus edulis
Pinus monophylla
Pinus ponderosa
Poa fendleriana
Prunus virginiana
Pseudotsuga menziesii
Populus fremontii
Populus tremuloides
Purshia mexicana
Purshia tridentata
Quercus gambelii
Quercus turbinella
Quercus undulata
Rhus glabra
Rhus radicans
Rhus trilobata
Robinia neomexicana
Rosa woodsii
Rumex hymenosepalus
Salvia dorrii
Sambucus caerulea
Scirpus microcarpus
Senecio multilobatus
Shepherdia rotundifolia
Smilacina stellata
Solanum elaeagnifolium
Sphaeralcea grossulariifolia
Stanleya pinnata
Stellaria media
Stephanomeria tenuifolia
Stipa comata
Stipa hymenoides
Stipa speciosa
Symphoricarpos oreophilus
Thermopsis pinetorum
Tradescantia occidentalis
Trifolium macilentum
Vicia americana
Viguiera multiflora
Vitis arizonica
Yucca angustissima
Yucca baccata
Yucca utahensis
Zauschneria latifolia


Not even this park is immune to invasive plants brought here by original settlers or later:
Ailanthus altissima
Bromus diandrus
Bromus tectorum
Cupressus glabra
Elaeagnus angustifolia
Erodium cicutarium
Malus pumila
Nasturtium officinale
Robinia pseudacacia
Rubia tinctorum
Salsola kali
Tamarix pentandra
Tribulus terrestris
Verbascum thapsus


These images were taken by Pavlína Zahradníková, winter 2008.