Family: Asphodelaceae Juss.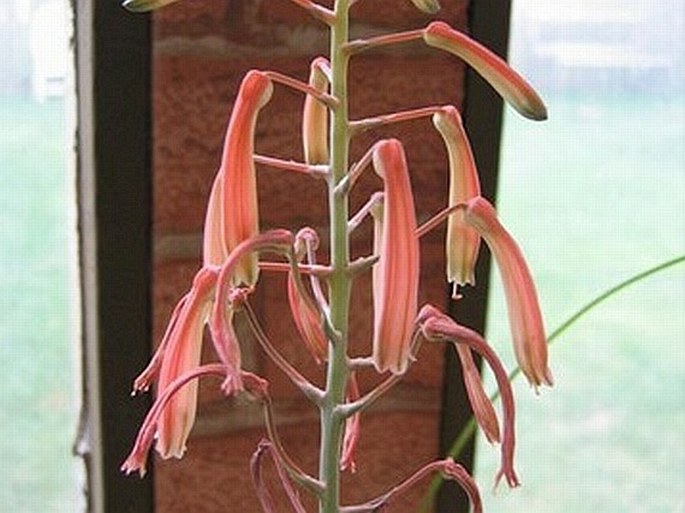 Distribution: Endemic to northern Somalia, Gaan Libah, 65 km south-southwest of Berbera.
Ecology: Rocky mountain slopes in Juniperus-Buxus forest on limestone, at elevation 1100 to 1700 m. Blooms when conditions allow; after sufficient moisture.
Description: Perennial succulent, stemless or short-stemmed, suckering from base or from the stem, up to 30 cm tall, forming dense groups 50 cm plus in diameter; rosettes 8–9 cm across. Leaves about 12, densely rosulate, broadly ovate, tapering, spreading up to recurved, 4 cm long, 2.5 cm wide at base, fleshy, upper surface dark green, flat to channelled, older leaves brownish at the tip, numerous pale green to white, transparent, oval spots; underside rounded, dark green, spots smaller, margins with horny red-brown, triangular teeth, 2 mm long, spaced at 3–4 mm, interspaces rounded, smaller spines at tip. Inflorescence simple raceme, to 35 cm tall, cylindric, lax; bracts 5 × 3 mm; pedicels 6–7 mm long; flowers cylindrical, pale pink, 20 mm long, 7 mm across, outer tepals free at tips; anthers and stigma exserted; ovary 5 × 2.5 mm.
Threat and protection: This species is listed by IUCN Red List as critically endangered, however it is grown in culture, easily obtainable and easy to grow and flower.
These images were taken in culture.