Syn.: Chrysanthemum arcticum L., Dendranthema arcticum (L.) Tzvelev, Leucanthemum arcticum (L.) DC.
Family: Asteraceae Bercht. et J. Presl
Distribution: Amphiberingian species – Japan, Russian Far East and subarctic North America; from Hokkaido and northern Honshu through Primorye, Sakhalin, Kurile Islands, Magadan and Kamchatka to Alaska, Yukon, Northwest Territory, northern Ontario and northwestern Quebec. The genus is monotypic, two subspecies are recognized, the nominate and A. a. subsp. polare.
Ecology: It grows in coastal, wet, brackish habitats, on gravel or rocks, in coastal tundra, also in coastal dunes, beach meadows, salt marshes, at elevations from sea level to 10 m asl.
Description: Perennial herb, from rhizomes at or below ground. Stems erect, usually simple, sometimes branched, glabrous or white-woolly near heads. Leaves petiolate, sometimes glaucous, basal and proximal cauline leaves fan-shaped to cuneate or spatulate, 6–50 × 4–35 mm, lobes usually 3–7, apices blunt, bases cuneate to truncate, margins revolute, teeth obtuse to rounded, glabrous or sparsely woolly, glabrescent, distal blades linear, 4–35 × 1–28(–40) mm, bases attenuate, margins dentate, or entire, apices acute or obtuse. Peduncles usually bracteate, bracts 0–4, linear-lanceolate to linear, 6–19 mm. Involucres patelliform to hemispheric, phyllaries in 3(–4) series, lanceolate to oblong, margins and apices scarious; ray florets (9–)14–25(–30), laminae 8–12 mm long, white; disc florets 140–360, yellow, (1.1–)1.4–2 mm long. Cypselae 1.5–2.5 mm long, pappus lacking.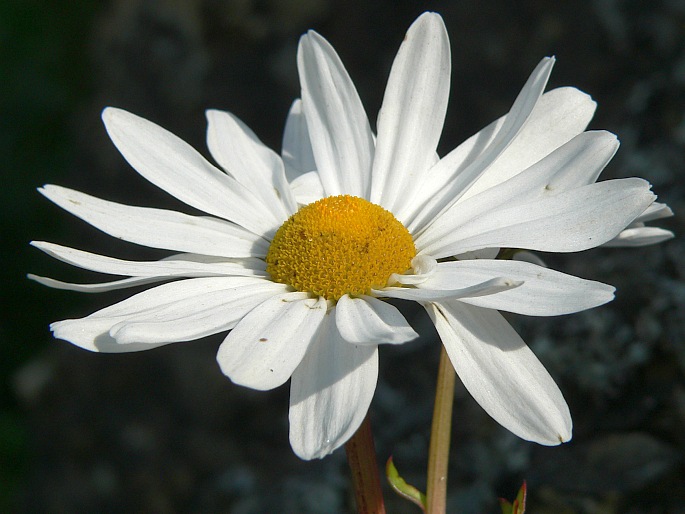 These images were taken in Russia, Kamchatka Peninsula, riverside of Khalaktyrka River, near the mouth (August 12, 2009).