Syn.: Brotera corymbosa Willd., Broteroa boryi (Spach) Kuntze, Cardopatium apulum Spach, Cardopatium billardieri Spach, Cardopatium boryi Spach, Cardopatium orientale Spach, nom. illeg., Cardopatium vrionis Heldr., Cardopatium vrionis Boiss., Carthamus corymbosus L., Cnicus horridus Forssk., Echinops corymbosus L.
Family: Asteraceae Bercht. et J. Presl
Distribution: Eastern Mediterranean region, from southern Italy and Greece through Turkey and Cyprus to Israel and Jordan.
Ecology: It grows in dry, open habitats, in rocky slopes, also in disturbed sites, along roadside, in fallow fields and pastures, at elevations from sea level to about 800 m asl. Blooms from June to August.
Description: Perennial, very spiny herb. Stem 8–25 cm tall, erect, spiny, profusely branched above, the plant is often as wide as high. Leaves alternate, oblong-oblanceolate in outline, pinnatisect, 7–35 × 3–12 cm, segments spinose-pinnatifid, glabrous. Capitula numerous, subsessile in clusters in a corymbose inflorescence, 5–10 mm in diameter, with 7–10 florets. Involucral bracts in several rows, the outer herbaceous, 12–18 mm long, with marginal and terminal spines, the inner scarious, scarcely spiny. Florets all hermaphrodite; corolla deeply 5-lobed, about 10 mm long, bright blue or rarely white; lobes much longer than tube. Achenes densely sericeous-villous, 3 mm long, pappus about as long as achene.
Note: The genus Cardopatium contains only two species, the second species Cardopatium amethystinum occurs in Algeria and Tunisia.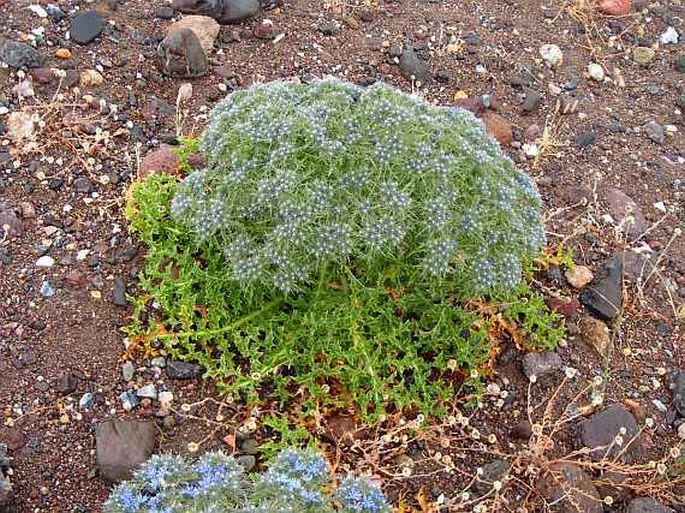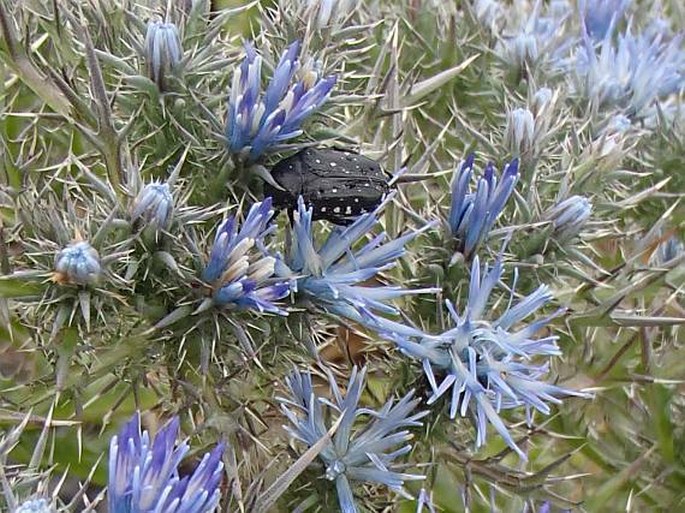 These images were taken in Greece, Lesbos (by Lucie Vančurová: June, 2015).