Syn.: Capnoides aurea (Willd.) Kuntze, Corydalis washingtoniana Fedde, Fumaria aurea Ker Gawl., Neckeria aurea Millsp.
Family: Papaveraceae Juss.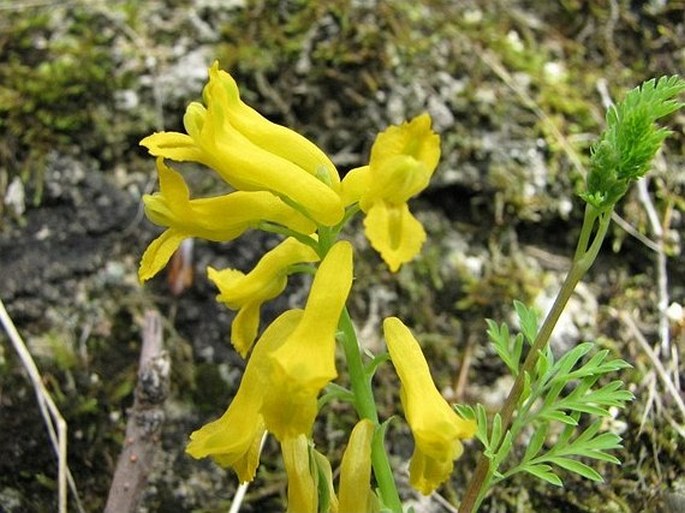 Distribution: North American species found in most of the continent with exception of south eastern states and northeast Maritimes – from Alaska to northern Mexico.
Ecology: Open woods, forest clearings, cracks of moist rocks, rocky hillsides, along streams, disturbed areas, at elevations from 100 to 3400 m. Blooms in June and July.
Description: Biennial to perennial herb, 10–30 cm tall, from branched caudex. Stem prostrate-ascending, 10–50, pale green to pinkish, hairless. Leaves alternate, petiolate, compound, 7–10 cm long, divided twice to three times into leaflets and lobes; ultimate lobes elliptic. Inflorescence is 10–20-flowered raceme, slightly higher than leaves; bracts 4–10 mm long; flowers golden yellow, erect, later reflexed, irregular, 13–16 mm long; sepals 2; petals 4, 2 inner, 2 outer, spur on outer petal 4–5 mm long; stamens 6; pistil 1. Fruit is a capsule, erect to pendent; seeds 2 mm, smooth.
Threat and protection: It is an endangered species in Illinois, Iowa, New York, Pennsylvania and Vermont.
Use: The plant is reported to be poisonous to sheep and cattle. Native tribes used it to treat a variety of ailments and this practice was adopted by early herbalists. Large doses proved to be fatal.
Note: The name Corydalis comes from Greek 'korudalis' which means 'crested lark' for resemblance of crested petals to a lark.
These images were taken in Canada, Alberta, Calgary, Bowmont Park, Waterfall Valley (June 2013, elev. 1100 m).