Syn.: Erigeron conspicuus Rydb., Erigeron eucephaloides Greene, Erigeron leiophyllus Greene, Erigeron leucotrichus Rydb., Erigeron macranthus Nutt., Erigeron salicinus Rydb., Erigeron subtrinervis subsp. conspicuus (Rydb.) Cronquist, Erigeron villosulus Greene, Stenactis speciosa Lindl.
Family: Asteraceae Bercht et J. Presl
Distribution: North American species of the west, from British Columbia and Alberta through Washington, Oregon, Idaho, Montana, South Dakota, Wyoming, Colorado, Utah, Nevada, Arizona and New Mexico to northern Mexico. Naturalized in Europe.
Ecology: It grows in prairie and open mixed forests, on dry or moist, gravelly or loamy soils, at elevations 900–3400 m. Blooms from June to October.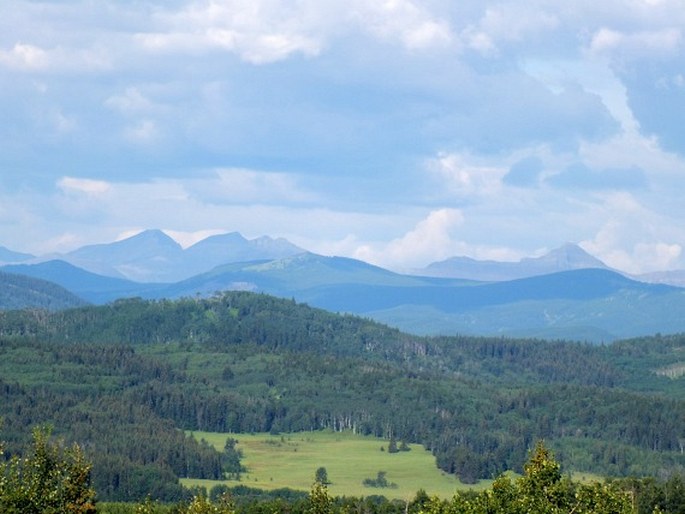 Description: Perennial herb, 30–80 cm tall, stems erect, smooth or sparsely hairy, from rhizomes with thick caudices and fibrous roots. Basal leaves oblanceolate-spatulate, 30–80 × 4–18 mm, entire, glabrous, eglandular or distal sparsely minutely glandular, sometimes ciliate; stem leaves from ovate to lanceolate, usually clasping, evenly spaced up to the flower head. Heads 4–20 in corymbiform arrays; involucral bracts in 2–3 rows, usually glabrous, sometimes sparsely hairy, ray florets 75–150, blue to lavender, rarely whitish, barely 1 mm wide, disc florets yellow. Fruit is an achene, about 2 mm, sparsely hairy, pappus white.
Note: Native tribes toasted fleabane plants, crushed them and mixed them with grease to apply this salve to painful or swollen parts of the body.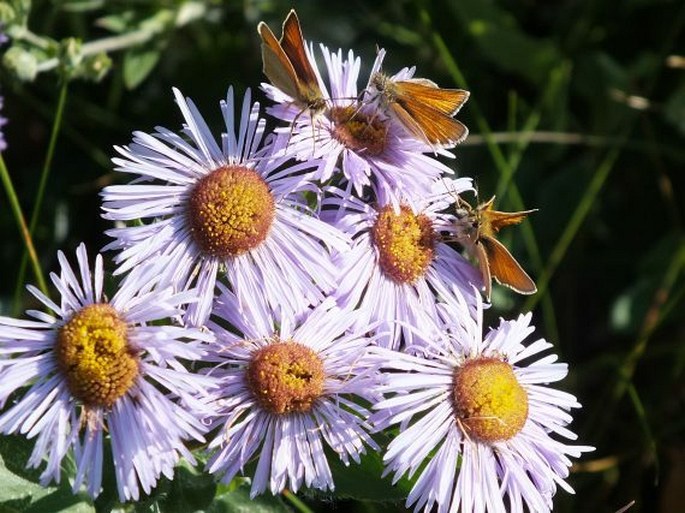 These images were taken in Canada, Alberta, Millarville (July 22, 2015).