Syn.: Satyrium hircinum L., Orchis hircina Crantz, Loroglossum hircinum (L.) L. C. Richard, Aceras hircinum (L.) Lindl.
Family: Orchidaceae Juss.
Distribution: Western and Southwestern Europe, Northwestern Africa – from Spain eastward to Italy and the Balkans, to England and Germany in the north.
Ecology: It grows in woodland margins, in dry meadows and pastures, in macchia and garrigue, on limestone soils, up to 1 800 metres above sea level.
Description: A perennial herb with an erect stem, 20–90(–110) cm high. The basal leaves are lanceolate to ovate, entire, up to 15 cm long and 5 cm wide, the stem leaves are smaller, lanceolate. The inflorescence is a dense spike, up to 35 cm long, with 40–80(–120) flowers, the flowers have a distinct smell of goats, are greyish green with red markings, sepals and petals forming a hood, the lip is 3-lobed, mid-lobe up to 6 cm long, twisted in a spiral, divided into 2–4 teeth, the spur is about 6,5 mm long. Flowers from April to July. The fruit is a capsule.
Threat and Protection: The Lizard Orchid is a protected plant in some countries (e. g. GB, Serbia), simultaneously is protected by the Convention on International Trade in Endangered Species of Wild Fauna and Flora (CITES).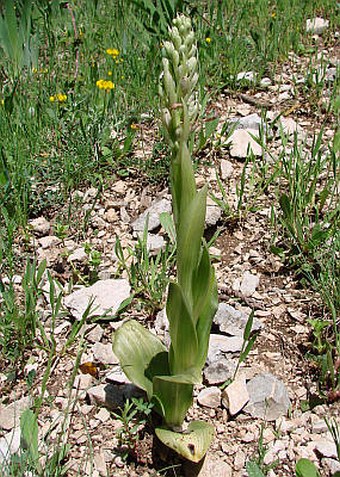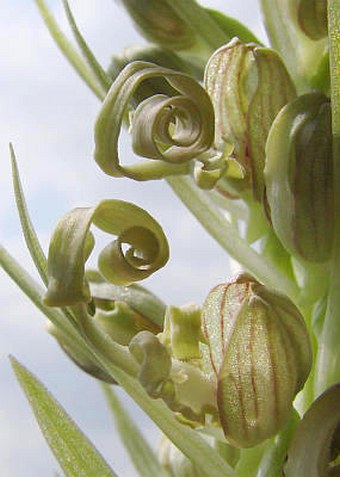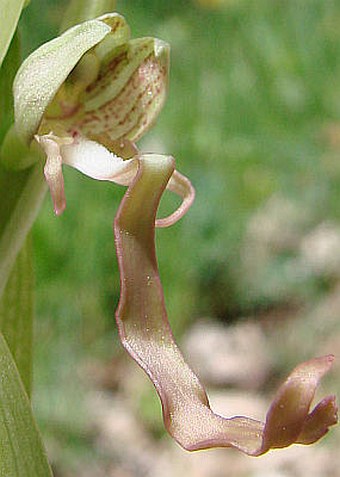 These images were taken in Italy, Gargano, Valle Pezzente (April 16 and 22, 2008).