Syn.: Pedicularis rupestris Boiss. et Orph. in Boiss.
Family: Orobanchaceae Vent.
Distribution: Endemic to southern half of Albania and to Greece on the south to northern Peloponnese.
Ecology: Stony alpine grasslands, snowbeds, between 1500–2400 m, preferably on calcareous substrates, but also on schists or serpentinites. It flowers from June to August.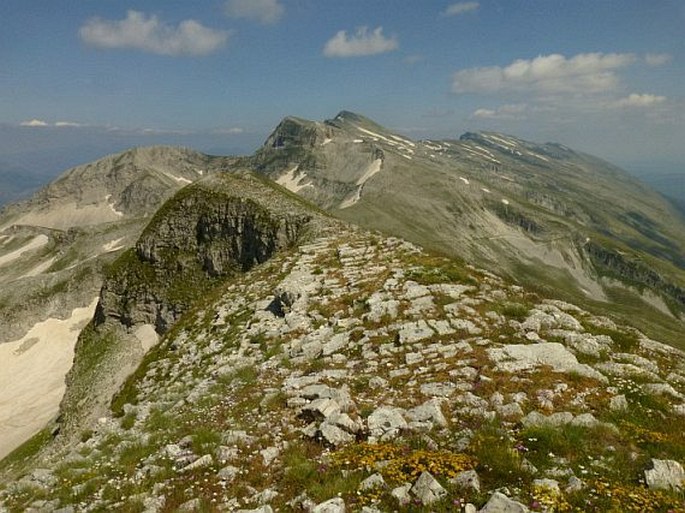 Description: Perennial herb with erect or ascending, densely lanate stems up to 20(–30) cm tall. Basal leaves 3–14 × 1.5–2.5 cm, ovate-lanceolate, 2-pinnatisect with ovate-lanceolate, incise-dentate segments, glabrous except for lanate petioles. Cauline leaves 0–2, smaller, subsessile. Inflorescence capitate, elongating after flowering. Bracts longer than calyx, lanate at base; lower leaf-like, pinnatifid; upper gradually smaller, lanceolate, more or less dentate. Calyx densely lanate, 10–14 mm including the narrow, lanceolate, 4–5 mm, shallowly toothed to entire teeth. Corolla 20–25(–30) mm, glabrous, yellow; upper lip distally curved, shortly beaked; lower lip crenulate. Capsule ovoid, 1.3 as long as calyx.
These images were taken in Albania, Mali i Nemërçkës (from 30. 6. to 1. 7. 2013).