Syn.: Abies omorica (Pančić) Nyman, Picea omorica (Pančić) Purkyně, Picea omorika (Pančić) Mast., nom. illeg., Pinus omorika Pančić
Family: Pinaceae Lindl.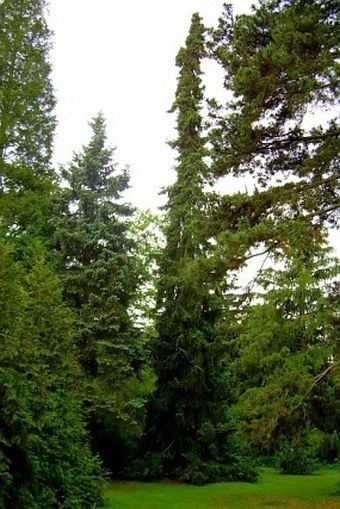 Distribution: Europe, a small range of about 60 ha in mountains located both in Serbia and Bosnia. It was probably widespread in Europe in the distant past, now only surviving there.
It is popular in gardening, and forestry plantation have been attempted, though not at the scale of other Spruce species like Picea sitchensis and P. abies.
Ecology: Their natural habitat lays on calcareous (limestone) soil, but it is considered very adaptable to any soil and diverse climate conditions. Altitudinal range 800–1500 m, on very steep north or northwest facing slopes, in mixed forest with Fagus sylvatica at lower heights and Picea abies, Abies alba and Pinus nigra at higher levels. It likes plenty of rainfall, cool summers and cold snowy winters.
Description: Trees around 30 m tall and 1 m trunk diameter, bark with thin scales in individuals of certain age. The crown is very narrow and can be spire-like, the main branches downwards, forming a slight arch, branchlets point in every direction, often drooping. Needles 1–2 cm long, shiny dark green above, waxy grayish white beneath, flat with two bands of stomata on the inner face, blunt or slightly pointed. Seed cones 4–6.5 cm long.
Threat and protection: Picea omorika is a protected plant in Serbia and Bosnia and Herzegovina. It is classified by the IUCN Red List as Endangered.
Usage: Very adaptable, this slow growing conifer puts on about 5 cm a year becoming in time a tall narrow spiky tree with branchlets heading to all directions. It has flattened leaves unlike most other Spruces, 1.7–2.5 cm long, bifacial, colour contrast between upper dark green surface and waxy grayish white beneath.
These images were taken in culture: Czechia, Prague (by Lubomír Rak, September 2006); Great Britain, London, Kew; Spain, Madrid, Alcalá de Henares, Real Jardín Botánico Juan Carlos I (by Raul Conde).