Syn.: Cryptocereus anthonyanus Alexander
Family: Cactaceae Juss.
Distribution: Species from south Mexico, original description from Chiapas.
Ecology: Epiphyte growing in semi-deciduous forests, in elevation from 700 to 1000 m.
Description: Climbing stem cactus with developed aerial roots and stems (phylloclade), hanging, light green. Stems up to 100 cm long, 7–15 cm wide, with zig-zag lobes, 2.5–4.5 cm long, areoles spaced 1–1.6 cm apart, spines 0–3, about 5 mm long. Flowers grow from bases of the lobes of stems, 10.5–12 cm across, outer petals narrowly lanceolate, 3–6 cm long, 0.5 cm wide, red to purple, inner petals oblanceolate, 5.5–6 cm long, 0.5 mm wide, creamy white. Fruit is a pod, 6–8 cm long, fragrant, covered with areoles, hairs and spines.
Treat and protection: This species is protected under CITES, Sch. 2 agreement.
Note: Genus Selenicereus contains 29 species, all found in Central America, north of South America and Caribbean.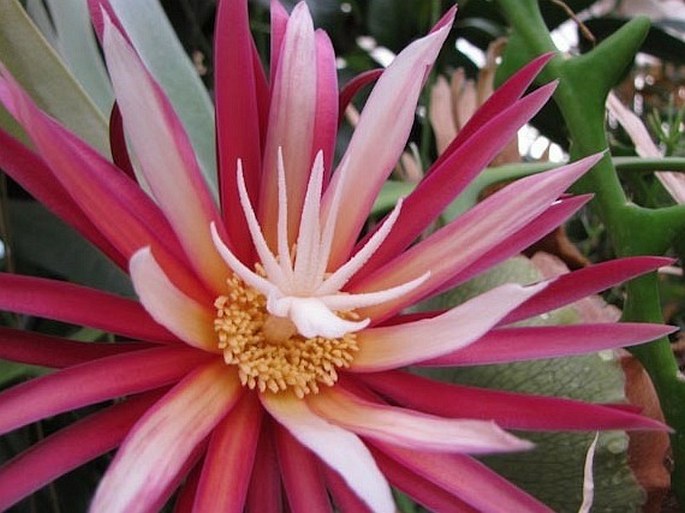 These images were taken in culture (September 2013).