Syn.: Aizoon montevidense Spreng. ex Rohr, Halimus maritima Kuntze, Halimus portulacastrum (L.) Kuntze, Pharnaceum rubens Adamson, Portulaca portulacastrum L., Psammanthe marina Hance, Pyxipoma polyandrum Fenzl, Sesuvium acutifolium Miq., Sesuvium brevifolium Schumach. et Thonn., Sesuvium edule Wight ex Wall., Sesuvium longifolium Humb. et Bonpl. ex Willd., Sesuvium ortegae Spreng., Sesuvium parviflorum DC., Sesuvium pedunculatum Pers., Sesuvium repens Willd., Sesuvium revolutifolium Ortega, Sesuvium revolutum Pers., Sesuvium sessile Pers., Sesuvium sessile Larrañaga, Sesuvium sessiliflorum Dombey ex Rohrb., Trianthema americana Gillies ex Arn., Trianthema polyandra Blume
Family: Aizoaceae Rudoplhi
Distribution: Pantropical and subtropical species – South America (in Argentina also in inland), North America (from Texas to North Carolina), Africa, southern and southeastern Asia, Australia and Oceania (Fiji, Hawaii, Marshall Islands).
Ecology: It grows on beaches, resistant to salt, at several areas reaches inland. Blooms year around.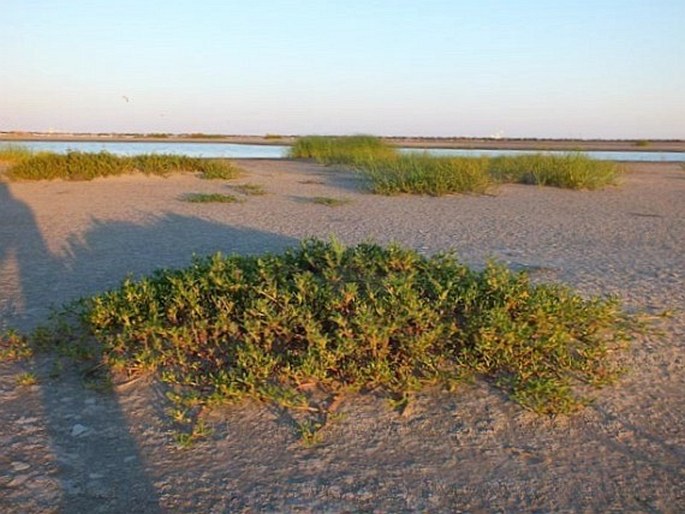 Description: Perennial semi-succulent herb with prostrate stems, multi-branched, rooting at nodes, forming large mats up to 2 m in diameter. Leaves opposite, short petiolate to sessile, oblanceolate to elliptic-ovate, to 6 × 1.5 cm, tapered to clasping base. Flowers solitary, pedicel to 20 mm long, 6–10 mm long, trumpet-shaped, calyx lobes green on outside, pink to purple inside, ovate to lanceolate; 30 stamens; pistil with 5 carpels. Fruit is a conical capsule, 10 mm long, seeds 30–60, black.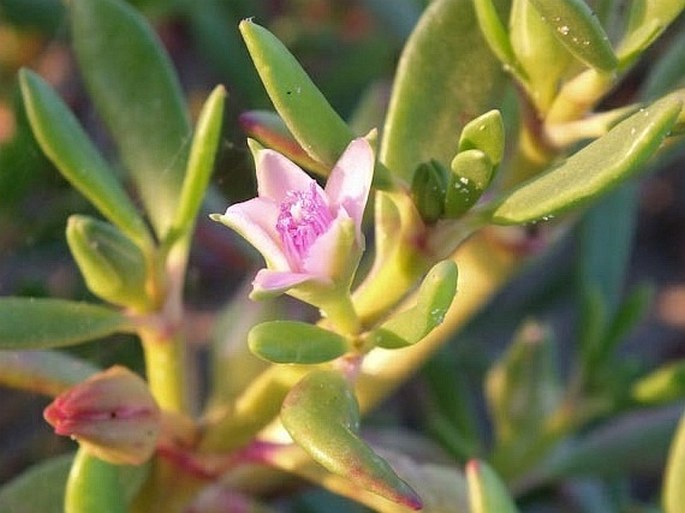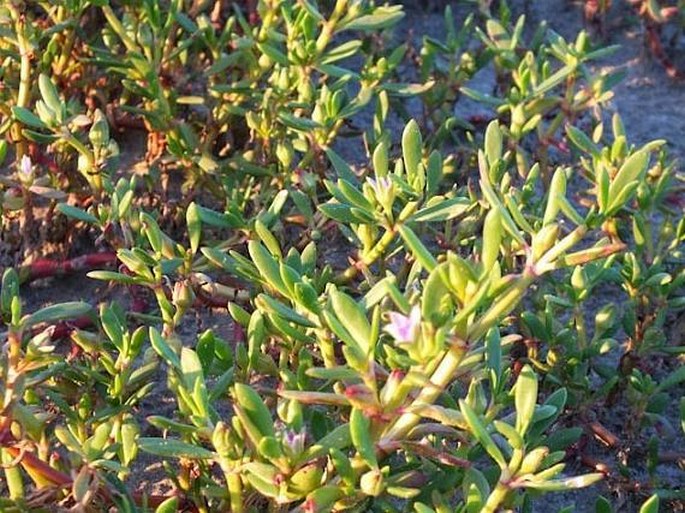 These images were taken in USA, Louisiana, Grand Isle (by Karel Bergmann, May 2014) and Cape Verde, Sal Island, Pedra Lume (by Alena Vydrová and Vít Grulich, November 12, 2006).