Family: Rubiaceae Juss.
Distribution: Endemic to granitic inner islands of the Seychelles Archipelago, it is known only on the three biggest islands (Mahé, Praslin and Silhouette). The genus Timonius includes about 160 species mostly from South Asia (up to Taiwan), some species are distributed in Australia and Oceania. The centre of diversity lies in Indonesia.
Ecology: Under-storey of tropical forests (rarely in forest margins), at elevations from 50 to 500 m a. s. l. The climate is hot and stable over the year.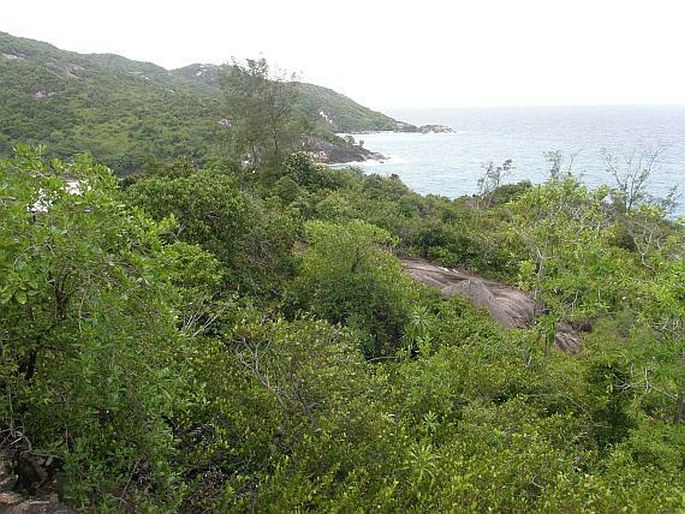 Description: Dioecious shrub or small tree up to 7 m high. The leaves are opposite, ovate, rather thin, 4–8 cm long and 2–3,5 cm wide, bright green, adaxially shiny and glabrous, abaxially shortly puberulous. Flowers appear in pairs in leaf axils, they are 4-merous; the lobes of sepals are short and green; petals are hypocrateriform, their tube is 5–8 mm long, whitish, the lobes are 2–3 mm long, thick, deep yellow to orange; the stamens in the male flowers are 4, pistil is 2-carpeled, ovary internal (there is a pistillodium in the male flowers). The drupe is globose, 7–10 mm in diameter, dark red to black when ripe, there are about 10 stones.
Note: Timonius sechellensis is closely related to Timonius flavescens, which is distributed from Sri Lanka to Thailand and Borneo – it was described from Sumatra. The differences between both species have not been elucidated yet.
These images were taken in Seychelles, Mahé Is., NP Morne Seychellois, Anse Major (February 5, 2011).