Syn.: Encyclia ochracea (Lindl.) Dressler, Epidendrum ochraceum Lindl., Epidendrum parviflorum Sessé et Moc., nom. illeg., Epidendrum triste A. Rich. et Galeotti, nom. illeg.
Family: Orchidaceae Juss.
Distribution: Central America – from southern Mexico to Panama.
Ecology: It grows as an epiphyte in wet and rain forests, pastures, at elevations from 500 to 1900 m asl. Blooms from February to August.
Description: Perennial herb, pseudobulbs ovoid to fusiform, 3–7 × 0.8–1.2 cm. Leaves 2 or 3, 7–24 × 0.4–1.7 cm, narrowly lanceolate. Inflorescences racemes, 4–12 cm long, with 6–12 flowers; flowers non-resupinate, sepals obovate, 3.5–4 mm long and 1.8–2 mm wide, obtuse, brown or yellow-green, petals 3.3–5.5 long and 1.3–4 mm wide, obovate, obtuse, lip about 4 mm long, white-yellow, 3-lobed, 1.5–1.6 × 1.6–2 mm, lateral lobes larger than the intermediate lobe, intermediate lobe about 1 × 1 mm, obtuse. The fruit is a capsule.
Threat and protection: The species is protected by the Convention on International Trade in Endangered Species of Wild Fauna and Flora (CITES).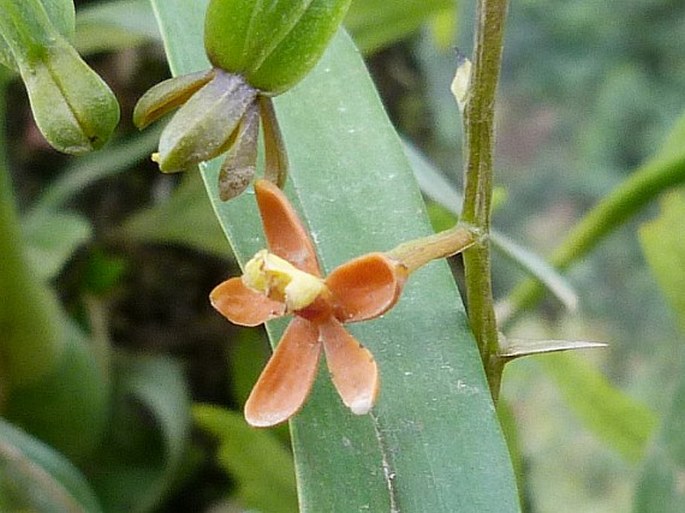 These images were taken in Guatemala, Nebaj (by Jindřiška Vančurová, February 7, 2015).