Syn.: Quercus cypria Jaub. et Spach
Family: Fagaceae Dum.
Distribution: Endemic species of Cyprus.
Ecology: It grows on stony and rocky slopes in mountainous areas of Cyprus, but only in the wider area of the Troodos Mountains, on the volcanic rocks, together with species of Pinus brutia and Arbutus andrachne, in small part of the island with Cedrus brevifolia, at elevations from 750 to 1600(–1800) m. It blooms from April to May.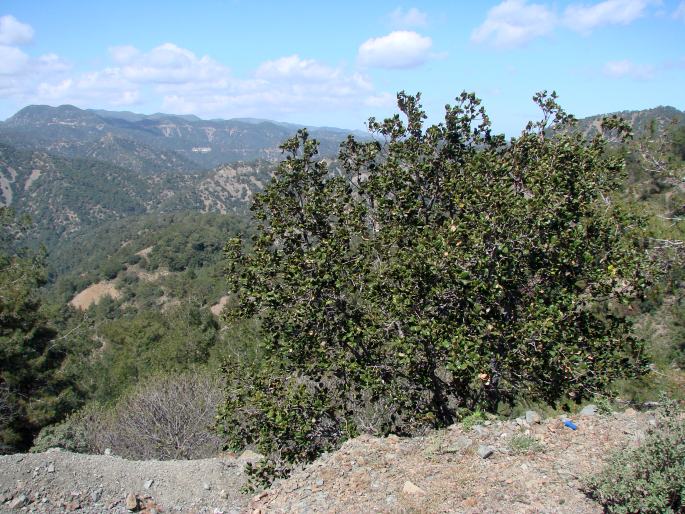 Description: Evergreen shrub to small tree, monoecious, 2–4(–10) m high, with dense, open crown. The leaves are alternate, petiolate, simple, ovate to elliptic, shallowly serrate, leathery, 2–6(–10) cm long and 1–5 cm wide, on the upper surface dark green, shiny, lower covered with dense, gold-brown indumentum. The flowers are inconspicuous, male catkins are greenish-yellow, females are solitary or in groups of 2–3. The fruit is an acorn.
Threat and protection: The species is protected by the Cyprian Forest Law.
Note: Quercus alnifolia is the national tree of Cyprus.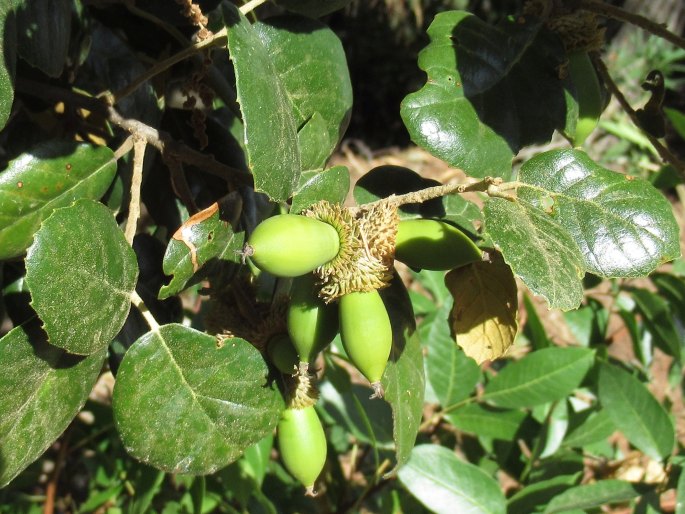 These images were taken in Cyprus, Troodos Mountains (March 28, 2010).