Syn.: Hirculus flagellaris Haw., Leptasea flagellaris Small
Family: Saxifragaceae Juss.
Distribution: Almost circumpolar species – Greenland, Svalbard, Central Asia, Caucasus, Siberia, Russian Far East, North America. The species is described from Mt. Kazbek, Caucasus, but it is a very variable species, many infraspecific taxa have been recognised, for example S. f. subsp. crandallii from the western part of North America, subsp. setigera from Canada, Alaska, Russian Far East, Siberia and Svalbard, subsp. platysepala from Svalbard, Greenland, northern Canada, and Alaska, subsp. mucronulata from Himalayas, subsp. crassiflagellata from Kashmir, and subsp. komarovii (in our pictures) from Tibet, Kashmir and Afghanistan.
Ecology: It grows on rocky mountain slopes, in arctic or alpine tundra, at elevations from sea level up to 5000 m asl.
Description: Perennial herb, stoloniferous, 4–12 cm tall. Leaves usually congested basally, sessile, obovate to ovate-lanceolate, 5–20 mm long, fleshy, margins entire, glandular. Inflorescences 2–3(–8)-flowered, lax cymes, sometimes solitary flowers; sepals acute or obtuse, margins stipitate glandular-ciliate; petals elliptic to broadly obovate, 4–9(–10) mm, longer than sepals, yellow. The fruit is a capsule.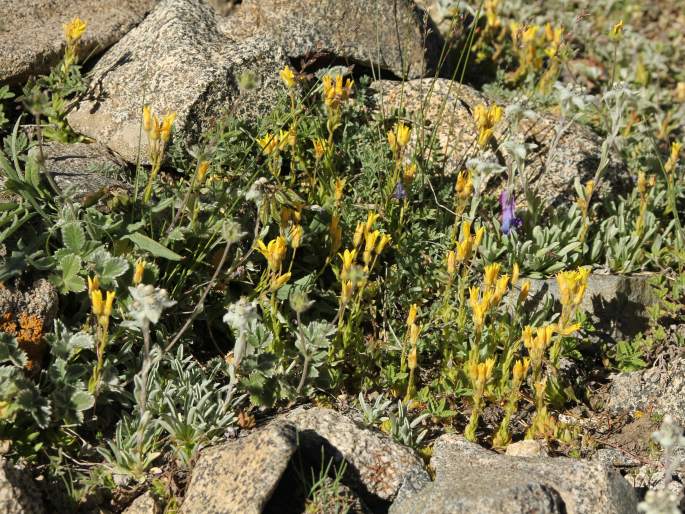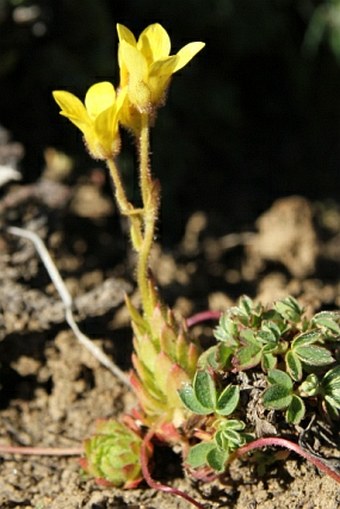 These images were taken in India, Ladakh, Murabak La (by Jindřich Houska, July 27, 2013).